Amareswara Swamy Temple also called Amararama temple. This temple is located in the town Amaravathi in Andhra Pradesh state. Amararama temple is considered as very sacred and located on the Southern bank of Krishna River.
About Amareswara Swamy Temple:
This temple is one of the Pancharama Kshetras that dedicated to Lord Shiva. In the temple architecture, one pillar in Mukhamantapa, there is the inscription wife of Proli Nayudu (that who was the minister of Kota King Ketaraja)
The Amareswara Swamy temple is located on the small hill. And this temple sees the shrines of Mahishasura Mardini, Omkareswara Swamy, Veerabhadraswamy, Agasteswara Swamy, Guru Dattatreya, Vinayaka, Anjaneya, Kalabhairava, Kumaraswamy, and Lord Krishna.
In this temple, the base of lingam is not visible. The four imposing gopuras in Dravidian style on four sides of the temple.
History of Amareswara Swamy Temple:
There are the two legends of this temple. One is demon king Tarakasura defeated gods after award the boon by Lord Shiva. Lord Vowed to kill demons and gods came to reside here. So this place called Amaravathi. Lord Shiva is worshipped as Amareswara along with his wife Bala Chamundika, who is considered as fourth of 18 goddesses
Other is Vasireddy Venkatadri Naidu, king of Chintapalli was great to devote of Amaralingeswara. He was putting down the revolt in his own land and got the situation that he needs the recourse to a massacre of Chenchus. For this, he lost his mental peace and recovered only when he visits Amaravathi. He spent his property to construct temples for Lord Shiva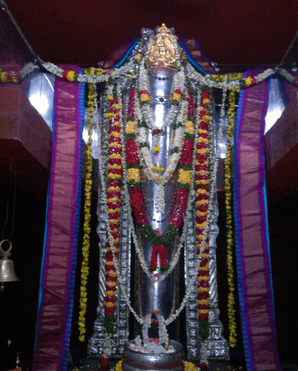 Amareswara Swamy Temple Speciality:
The Amaravati temple has the different style of worship when compare to other Lord Shiva temples. Here Shiva Linga is 15 feet high white marble and Abhishekam is performed from upstairs
People believe that worshiping this temple is believed to resolve the family issues
This temple is one of the 5 Pancharama and other four being Bheemarama, Draksharama, Kumararama, and Ksheerarama.
Amaravathi is an important site of Hindu & Buddhist religion
If devotes dip in its holy water to clean their souls
We can see the red color patch on Shivalingam because the Shivalingam was kept growing in its size. So that nail has been hot on the top of that Shiva Linga. At that time Shivalingam started bleeding.
This is named as one of the sacred Shiva lingams
Amareswara Swamy Temple opening timings:
Morning: 06:00 AM to 12:00 PM
Evening: 04:00 PM to 08:00 PM
Temple Seva Ticket details:
Nithya Abhisheka Pathakam: Rs 3116
Saswitha Abhishekam: Rs 1116
Kathikamassa Abheshekam: Rs 1116
Maha Shivaratri Abhishekam: Rs 216
Saswitha Annadanam: Rs 1116
Rudra Homam: Rs 2116
Nithya Pooja Pathakam: Rs 1516
Chandi Homam: Rs 2116
Masa Shivaratri Abhishekam: Rs 516
Eka Rudrabhishekam: Rs 100
Dasara Alankarams: Rs 1516
Sahasra Namarchana: Rs 100
Ashtotram: Rs 50
Navagraha Abhishekam: Rs 100
Santhi: Rs 250
Special darshan: Rs 20
Two-wheeler Pooja: Rs 50
Four-wheeler Pooja: Rs 100
Dress code for Amareswara Swamy Temple:
The temple committee encourages traditional get up for devotees and the temple doesn't permit short dresses for men or women
Photography not allowed
One should switch off their mobiles phones while entering into the temple
Famous festivals celebrated at Amareswara Swamy Temple:
Mahasivarathri, Kalyana Utsavas, Bahula Dasami and Navaratri are the important festivals
How to Reach:
By Road:  Amaravati road is connected all major cities so from Guntur it is 32 km and 46 km south west of Vijayawada
By Rail: The nearest railway station is situated at Peddakurapadu that is just 19 km from the temple
By Air: The nearest airport to reach this temple Gannavaram airport to the north of Vijayawada
Accommodation>:
People can get the decent hotels at Amaravati. This temple trust also has special guest houses for thousands of pilgrims
Nearby temples:
Sai Baba temple
Geeta Mandir
Omkareswara Mandir
Kanaka Durga Temple
Lalitha Ammavari temple
Lord Anjaneya temple
Surya Bhagavan temple
Amareswara Swamy Temple address:
Sri Amareswara Swamy Temple,Amaravathi town, Guntur district,Andhra Pradesh 522020, Office phone: 08645 255241
Also Read: Visiting Places Near KanakaDurga Temple Vijayawada