Kapila Theertham temple is also known Kapileswara Swamy temple. This temple is dedicated to Lord Shiva that located at near Tirumala hills in Andhra Pradesh. The Kapileswara Swamy temple attracts huge waterfalls from mountain stream Palapa Vinasanam
About Kapileswara Swamy temple:
The entrance of temple stands a mountain cave in one of the steep and vertical faces of Tirumala hills. The main idol of a temple is believed and installed by Kapila Muni. So that here Lord Shiva worshipped as Kapileswara.
A huge stone statue of Nandi is located at the entrance of a temple. Kapila Theertham is on the midway from Tirupati. The daily number of devotees visits this temple for Lord Shiva darshan. Kapila theertham temple comprises of seven lakes called as Seshachalam.
In this Kapila Theertham temple, there are many sub-strains presents. Substrains temples like Vinayaka, Parvati (Kamakshi), Subramanya Swamy, Rukmini Satyabhama Sametha Sri Krishna, Agasthesswara and few among them.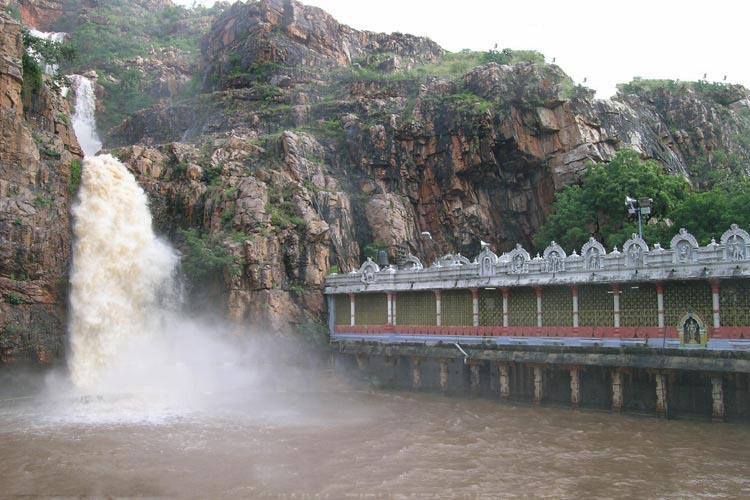 Kapila Theertham temple History:
According to legends Kapil Muni had performed powerful penance to Lord Shiva at this place and then Siva and Parvati presented themselves. The Shiva lingam is believed to be self-manifested. Kapil Muni is believed from Bilam in Pushkarini on earth.
The Kapil Theertham temple has supported by Vijayanagara Kings during the period of 13th to 16th centuries (Emperor King Saluva Narasimha Deva Raya to King Sri Krishna Deva Raya). At present this temple is under the control administration and protection of Tirumala Tirupati Devasthanam (TTD)
Kapileswara Swamy temple opening timings:
Morning: 5 AM to 4 PM and Afternoon: 04:30 PM to 9 PM
Temple Sevas and timings:
Daily sevas:
Suprabhatam Seva: 5 AM to 05:30 AM
Abishekam: 05:30 AM to 06:30 AM and 4 PM to 04:30 PM
Archana, Alankaram: 06:30 AM to 7 AM
Sarvadarshanam: 7 AM to 4 PM and 05:30 PM to 8 PM
Sahasranama Archana: 04:30 AM to 5 PM
Lalitha Sahasranama Archana: 5 AM to 05:30 PM
Ekantha Seva: 8 AM to 08:15 PM
Weekly seva:
Rudrabhishekam: 3 PM to 4 PM
Navagrahabhishekam: 05:30 PM to 06:30 PM
Ekantha Seva: 05:30 PM to 06:30 PM
Monthly Seva:
Siva Parvathula Kalyanam: 5 PM to 7 PM
Ekadasa Rudrabhishekam: 04:30 PM to 07:30 PM
Ticket cost:
Archana, Harathi: Rs 5
Abhisheka Darsanam: Rs 2
Rudrabhishekam: Rs 50
Navagraha Archana: Rs 50
Sahasranama Archana: Rs 2
Nithyabhishekam: Rs 542
Abhishekam for one year: Rs 42
Unjal Seva: Rs 116 (5 persons allowed)
Siva Parvathula Kalyanam: Rs 250
Subramanya Swamy vari Abhishekam: Rs 50
Dakshina Murthy Swamy Vari Abhishekam: Rs 50
Sarpadosha Nivarana Pooja: Rs 200
Mahanyasa Rudrabhishekam: Rs 300 per 2 persons
Snapana Thirumanjanam: Rs 100
Sankatahara Chaturthi: Rs 50
Krithika Abhishekam: Rs 50
Nataraja Swamy Vari Snapana Thirumanjanam: Rs 100
Dress code details at Kapileswara Swamy temple:
Here men will allow white Pancha, Pyjama, Dhoti, Kurta, and Women should wear saree with blouse, Punjabi dress with Dupatta, Half saree
Main festivals celebrated at Kapileswara Swamy temple:
Karthika Deepam, Skanda Sasti, Float Festival, Arudra Darsanam Utsavam, Mahashivarati are the main festivals that celebrated at Kapileswara Swamy temple.
Kapila Theertham temple food timings:
The temple maintainers provide the Anna Prasadam from 5 AM to 03:30 PM and 5 PM to 10:30 PM. Free and unlimited tasty food is offered to all pilgrims. This Anna Prasadam center is present at Sri Hygreevar Swamy temple (Thiru Mada Street).
Nearby temple:
Padmavathi Temple
Govindarajan Temple
ISKCON (Hare Krishna) Temple
Kothanda Rama Swami Temple
Tirupati Venkateswara Temple
Sri Veda Narayanaswami Temple
Sri Kalyana Venkateshwaraswami Temple
Accommodation:
There are the different guest houses available near a temple. The number of lodges and choultries are available for accommodation with all necessary facilities at reasonable cost.
How to Reach:
By Road:  Number of buses available for Tirupati. It is well connected with all major cities
By Rail: The nearest railway station is Tirupati Railway station and the other nearest stations are Chandragiri, Renigunta, Tiruchanur and Tirupati West
By Air: The nearest airport is Tirupati
Kapileswara Swamy temple address:
Sri Kapileswara Swamy temple, Kapila Theertham, Near Alipiri, Tirupati, Chittoor district, Andhra Pradesh 517507.
Also Read: Accommodation in Kanipakam Vinayaka Temple