about srikalahasti temple
about srikalahasti temple  is one of the ancient holy places. It is situated near Tirupathi, Chittoor district of Andhra Pradesh. It is located on banks of river Swarnamukhi Information, we will help you about that  Epic of Srikalasthi Temple.
This temple is dedicated to Lord Shiva is one of the pancha bhoota sthalas it is belief that many saint attain "mukthi" at this precious punyakshetra. History Of Srikalahasti Temple The deity of this punyakshetra is Srikalahasti.
The lingam in this temple is 'Swayambhu' and known as Sri Kalahasteeshwara Swamy. The temple is associated with Rahu and kethu (the nine grahams). Where one can breakdown their doshas by devoting rahu and kethu.
The Beauty of the Srikalahasti Temple:
The temple architecture is a pleasure to the eyes for all those who visit Srikalahasti. The three lofty Gopurams of the temple are outstanding for their architecture.
When you enter in to the temple, firstly you will attacks with old world – appeal it still breathes, which reflects our culture in all its majesty.
about srikalahasti temple will be huge temple towers, impressively standing in the middle of the road filled with shops on both side and busting with visitors.
The Srikalahasti temple consists of four major entrances with huge tower. As it is called as pancha bhoota sthalas – Air arises the part in case of Srikalahasti.
Srikalahasti temple stands prominent with an architecture enwrapped in old world charm. The Shiva temple imitates few of culture and olden days in look.
The lingam in the temple is more than 100 years back and the study of the pillar and carving in the temple prove its ancient times which beyond 1000 years.
The Srikalahasti temple will be open during the eclipse and special Abhishekam will be performed on that day.
Other deities in the Srikalasthi temple:
We can visit all the pilgrimage inside the temple like Check More Information Detail Description on Rahu Ketu Pooja in Srikalahasti
Sri Balambika, Lord Venkateshwara, Sri Kasi Visweshwara, Sri Pathala Vinayaka, Bezawada Kanaka Durga,  Lord Subrahmanya, Sri Dakshinamurthy, Lord Kala Bhairava,  Sri Ramalingeshwara, Lord Saneeshwara and Sri Kali Matha outside the temple Details of Darshanam Timing And Sevas In Srikalahasti Temple.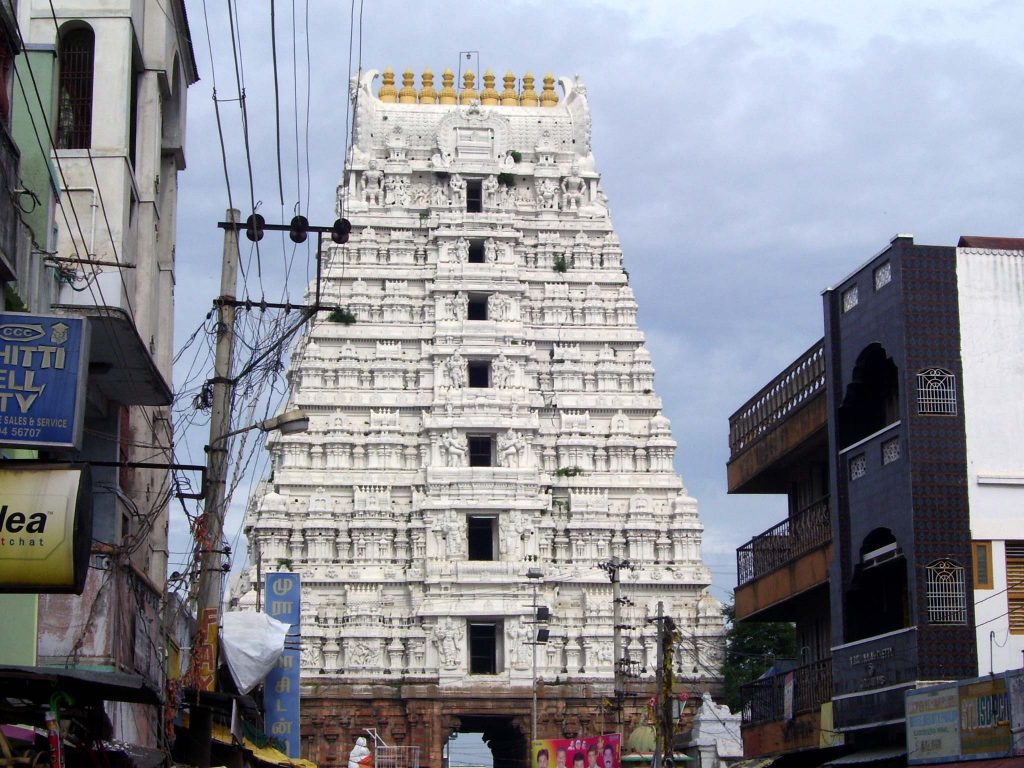 The Reigning Goddess:
The reigning Goddess is Gnana Prasoonamba (the mother of all the knowledge) who represents the wealth.
On Friday, the glorious vision of the Divine Mother,  How To Reach SriKalahasti Temple Varaprasadini (wish fulfiller) and also Gnanaprasadini (knowledge provider), will be appeared in "bangaru pavada" (golden robe) dress it fills the heart of devotee and it fully satisfies the loving wishes to behold the Loka Matha within this worldly eyes.
There are many different Prominent Visiting Places Near Srikalahasti Temple