Udupi Sri Krishna Temple Pooja Timings and daily Sevas List
The Lord Sri Krishna will be worshipped 14 times in a day by Swamiji. This ritual will begin early in the morning and go till night. There is no change in these fourteen rituals from the past 800 years.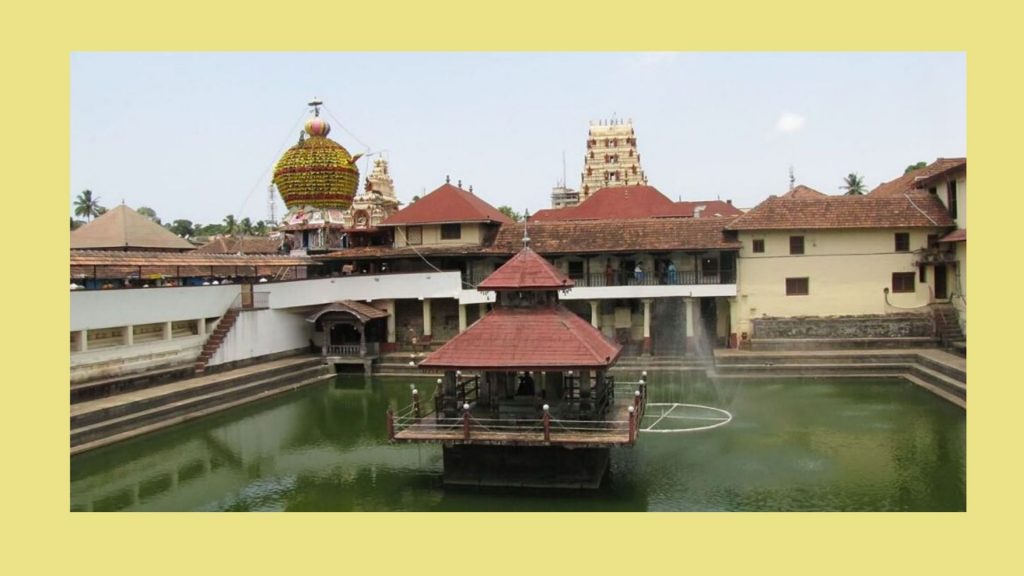 Udupi Sri Krishna Temple Daily Pooja Timings
The following are the list of fourteen rituals followed daily in the temple:
Nirmalya Visarjana Pooja: This pooja is offered at 5-30 a.m.
Ushakala Pooja: The Ushkala pooja is offered at 6:00 a.m
Akshaya Patra-Gopuja: The Akshaya Patra gopooja is offered at 6-15 a.m.
Vishwaroopa Darshana: The Vishwa Roopa darshan of Sri Krishna is available for devotees at 6-20 a.m.
Panchamrit Abhisheka Pooja: The Panchamit Abhisheka is started at 6-30 a.m.
Udvartana Pooja: The Udvartana pooja is offered at 7-00 a.m.
Kalasha Puja: the Kalasha pooja with mint leaves is offered at 7-30 a.m.
Teertha Puja: The Teertha pooja is started by 7-40 a.m.
Alankara Puja: the Alankara pooja to Lord Sri Krishna is started by 8-30 a.m.
Avasara Sanakadi Pooja: The avasara sanakadi pooja is offered at 10-30 a.m.
Mahapuja: The Mahapuja is offered at 11-00 a.m.
Chamara Seva: The Chamara seva is offered at 7-00 p.m.
Ratri Pooja: The Ratri Pooja is offered at 7-30 p.m.
Ranga Pooja: The ranga pooja will start by 7-40 p.m.
Utsava Pooja: The Utsava Pooja to lord is offered at 8-00 p.m.
Thottilu Pooja: The thottilu pooja is offered by 8-30 p.m.
Kolalu Seva: The Kolalu seva is started by 8-40 p.m.
Ekanta Seva: Final pooja to Lord Sri Krishna that is offered is Ekanta Seva by 8-50 p.m.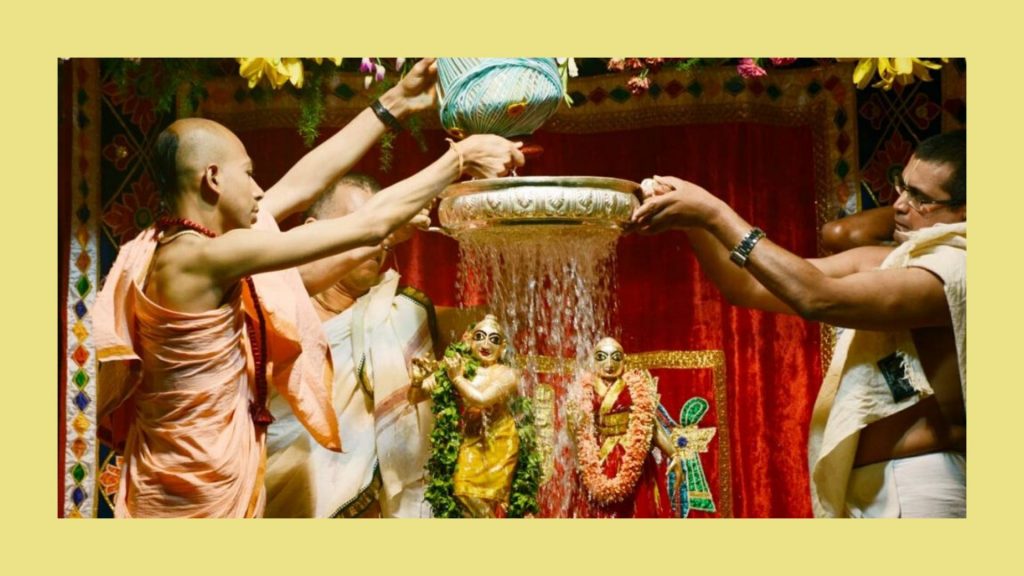 Udupi Sri Krishna Temple Darshan Timings:
Udupi Sri Krishna Temple Opening Time: 4:30 AM,
Udupi Sri Krishna Temple Closing Time: 9:30 PM
Udupi Temple Darshan Timings: 6:30 AM to 9:30 PM
Darshan duration: 30 to 45 mins during weekdays and 1 to 2 hours during weekends.
Festivals Celebrated In Krishna Temple:
The utsavas are the main and essential that will be performed in the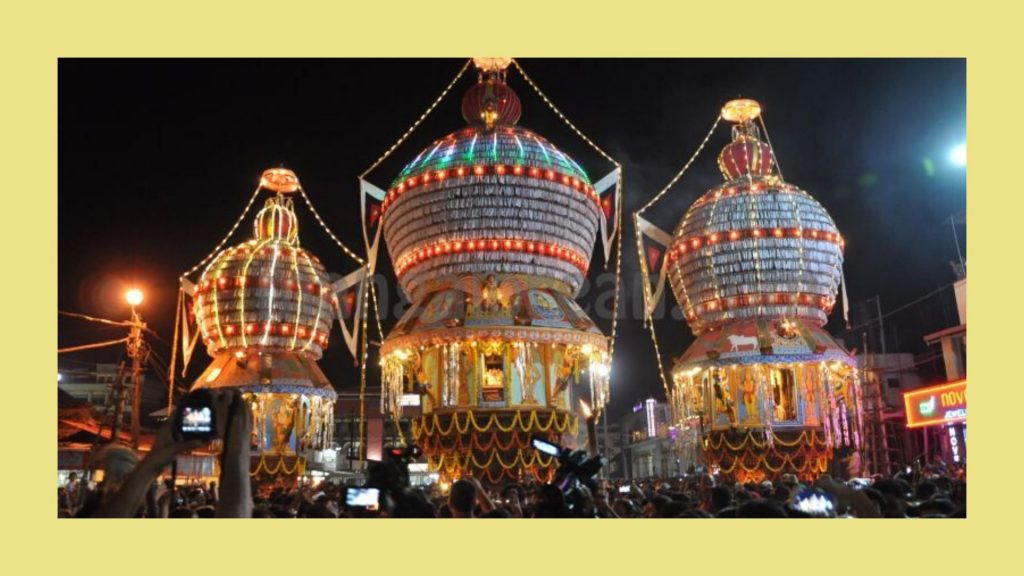 Saptotsava:  The Saptotsav will start before 5 days to Vasantotsava.
Vasantotsava: The Vasantotsava starts on Chaitra Shuddha Pratipada and ends on Vasantha Dwadashi.
Krishna Leelotsava: This Krishna Leelotsava performed after Simha Masa, Krishnashtami. Here Lord Sri Krishna idol will be taken around the temple with the golden chariot.
Laksha Deepotsava: In this Utsav, two chariots will be drawn every day from Kartika Shudha Dwadashi to the Full Moon day.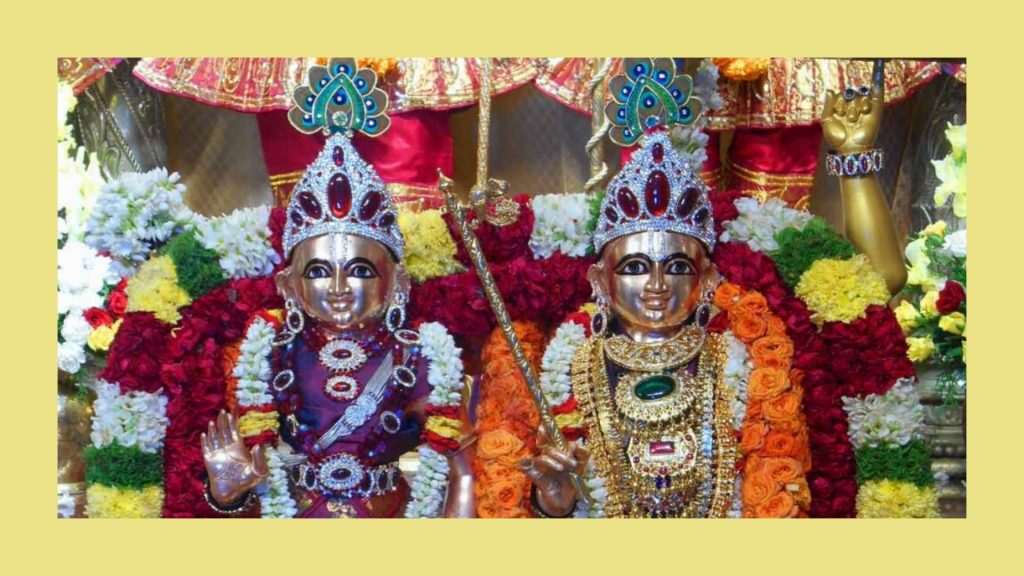 Udupi Sri Krishna Temple Sevas List:
The list of sevas offered to Lord Krishna in the Temple as given below.
Paryaya Mangala
Paryaya Prarambhotsava
Akhanda Saptotsava:
Santarathotsava
Laksha Deepotsava
Sri Krishna Jayantyutsava
Swarna Rathotsava
Brahma Rathotsava
Vajra Kireeta Alankarotsava
Vasanthotsava
Rajatha Rathotsava
Golden Mantapa Festival
Garuda Rathotsava
Golden Palanquin Festival
Mahapuja Rathotsava
Sarva Seva
Annadaana
Ksheeraabhisheka
Nandadeepa of Ghee
Nandadeepa of Oil
Godaana
Sahasranaamarchana
Ashottaarchana
Milk and butter offering
Karpoora Mangalarathi
Hastodaka to Sri Madhwa
Pavamana Paarayana
Vaayustuti Paarayana