Someswara Swamy temple is one of the Pancharama Kshetras which is located in Bhimavaram of West Godavari District. And this Someswara Swamy temple is dedicated to Lord Shiva.
About Somarama Someswara Swamy Temple Bhimavaram:
This temple was believed to build during 3rd century AD with big Gopuram in temple entrance. In front of the temple, there is a pond called Chandrakundam always covered with beautiful lotus flowers. On the left side of the main temple, there is the big hall which temples of Hanuman and Lord Srirama. On the right side of the main temple, there is a big open hall above the temple office.
Sponsored Links:
At the time of the crowd, Pandits conduct the Puja here.  In the main hall, there is one big Nandi statue. Here Lord Shiva worshipped as Someswara Swamy and wife Goddess Parvati as Sri Rajarajeswari Ammavaru. The 15 m height pillar is constructed in front of the big Gopuram
Southside of this temple Garbha Graham, Goddess Adilakshmi has seen and marriages are conducted in that new hall also in Goddess Annapurna Mandapam. Inside the temple, there are Lord Anjaneya Swamy, Navagraha, God Kumara Swamy, and Lord Ganesha has seen. In the Someswara temple, Pushkarini pond is there and called Soma Gundam.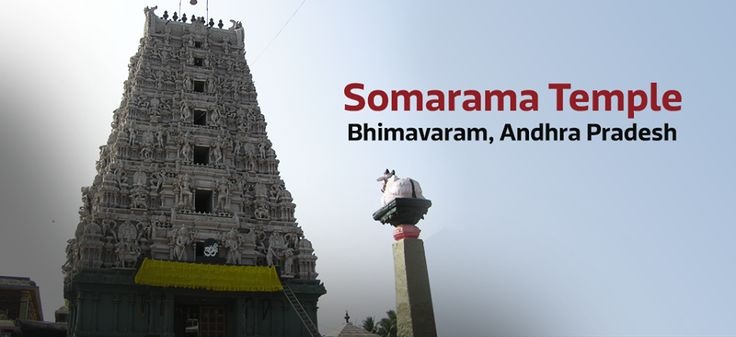 History of Somarama Someswara Swamy Temple Bhimavaram
There are two famous legends about the temple and the first one says that Amrutha Shivalinga was owned by Demon Tarakasura. Due to that Shivalinga, he becomes more powerful and no one could win over him. Son of Lord Shiva and Parvati, Lord Kumara Swamy used his powers to kill Tarakasura but failed they reunited again and again
So Narayana advice to Kumaraswamy breaks that Shiva Linga wore by demon Tarakasura into pieces and then the place them in five different places forming the sacred temples. Lord Chandra installed Shivalinga So that this temple named as Someshwara Swamy
And another legend says that Lord Shiva destroyed the Tripura during Tripura Samharam. The Shiva lingam in the throat of a lord of Tripuras was broken into 5 pieces and installed worshipped in 5 different places as Pancharama Kshetras
The Pancharama Kshetras are mentioned below:
Someswara Temple, Somarama
Sri Kumararama Bhimeswara Swamy Temple, Kumararama
Bhimeswara Temple, Draksharamam
Amareswara Swamy Temple, Amararama
Ksheera Ramalingeswara Swamy Temple, Ksheerarama
Somarama Someswara Swamy Temple Bhimavaram Specialty:
In Sanctum Lord Shiva is in the form of Shiva Linga avatar. There is one specialty in this temple; Shiva linga will change the color according to the lunar aspect. At full moon day, (Pournami) Shivalinga is in White color as well as Amavasya days it color shades to black
The special temple built on top of Somarama temple, goddess Annapurna with sacred thread on her neck and baby near to her holy feet.
Somarama Someswara Swamy Temple Bhimavaram Timings:
The Somarama Someswara Swamy Temple remains open from morning 05:00 AM to 11:00 AM and 04:00 PM to 08:00 PM
Main festivals celebrated at Somarama Someswara Swamy Temple Bhimavaram:
Maha Shivaratri is the famous festival in the month of February/March
Sarannavarathri is another festival that takes place in the month of September/October
How to reach Somarama Someswara Swamy Temple Bhimavaram:
By road:
There are many buses available to Bhimavaram from Eluru and Vijayawada
By Train:
The nearest Railway station to Bhimavaram Someswara temple is 2 km away
By Air:
Nearest Airports are at Rajahmundry and Vijayawada, one can available the regular flights
Nearest places to visit:
Sai Baba temple
Dwaraka Tirumala
Mavullamma temple
Hanuman temple
Durga Temple
The Bhadrachalam Seetaram Aligeswara Swami temple
Ramalayam temple
Dindi
Draksharamam and Pithapuram
Sivalayam temple
Somarama Someswara Swamy Temple Bhimavaram Accommodation:
The rooms, halls are available at reasonable rates near to temple and online services are also available
Somarama Someswara Swamy Temple Bhimavaram Address:
Somarama temple,Bhimavaram of West Godavari district,Andhra Pradesh
Also Read: History Of Sabarimala Temple, Kerala