Structuring And Architecture Meenakshi Amman Temple
Structuring And Architecture Meenakshi Amman Temple Check More Information Seva & Poojas Meenakshi Amman Temple and How To Reach Meenakshi Amman Temple
Also Read Visiting Places Near Meenakhi Amman Temple
Structuring And Architecture Meenakshi Amman TempleThe house consists of 14 in number Gopurams which mean Gateways towers
The height is mentioned to be 45-50m
The temple is meant to be the largest of the Southern tower with 51.9meters which is 170feet of height.
Devotees can observe two 'vimanas' which are the golden sculptures on top of the Garbhagrihas (Sanctum) on the Shrines of the major deity.
The temple is sectioned into four concentric quadrangular corral controlled by high stonework walls.
Viswanatha Nayaka the king of that time re-modulated the city of Madurai in accordance to 'Shilpa astra' which could match the urban culture.
The temple complex is about 45 acres of land.
Construction of Gopurams –
14 Gopurams i.e., the gateway towers are constructed which is the tallest amongst the south Indian temples
Built in 1559
height 170ft i.e., 52m.
Older of the Gopurams face eastern one built by Marvarman Sundara Pandyam (1216-1238)
Inner Shrines –
Amman's temple as the central shrine along with her consort Shiva by other words Sundareswarar are surrounded by 3 enclosure.
Each of these enclosures are safeguarded by four points of compass.
The outer tower is seen growing longer and reaching the high corresponding inner one.
Meenakshi Amman's main temple (inner one) is encrusted with emerald-hued stone of black image.
Shivas shrine is at the centre of complex. But, Amman's rituals of dominance was developed later.
Both the shrines of the couple have gold petals.
The golden wall is seen form large distance in west, which is the apertures of two successive towers.
Sundaraeswarar shrine is one fourth of the temple and Meenakshi temple is one fourth of lord Sundareswaras' temple.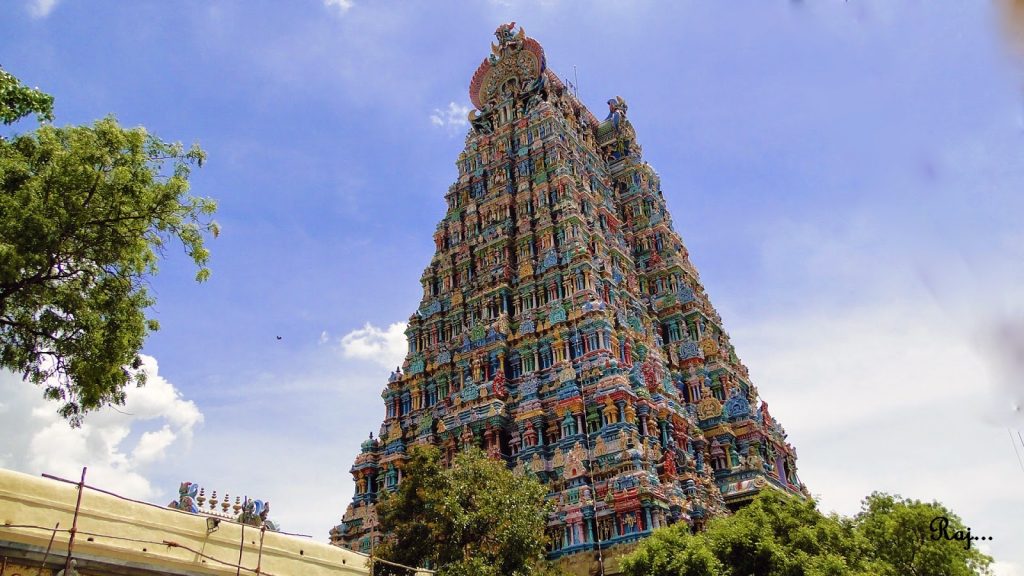 Structuring And Architecture Meenakshi Amman Temple 'Mukuruny Vinayaka' which means three 'Kurinis' are carved on one single stone and placed outside the Sundareswarar shrine that is in the path of Meenakshi Shrine.
The deity is meant to be found in the period of 17th Century while research was going on to invent Mariamman Temple tank.
Also Read: About Meenakshi Amman Temple
Sthala Purana And History of Meenakshi Amman Temple