Ulagalantha Perumal Temple Kanchipuram was built by Nandivarma III during 846- 869 A.D. later, this temple was renovated by Pallavas and Cholas. The main deity inside the temple depicts this play. Where Lord shows his one finger to the right hand, which says that he has measured the first step. His left-hand shows now finger, which denotes the second step. For the third step, Lord raised his feet above, denotes the final step on Mahabali's head. Lord, her called by Thrivikram.
Vamana who as Vishnu by himself took one step to possess the Heaven, second step to possess the earth and the third step no space for third space. Mahabali bows down and prayed Lord to keep the third step on his hand. Vamana pushed Mahabali to pathala Loka and asked him to rule the pathala, thus saved earth and Heaven.
Sponsored Links: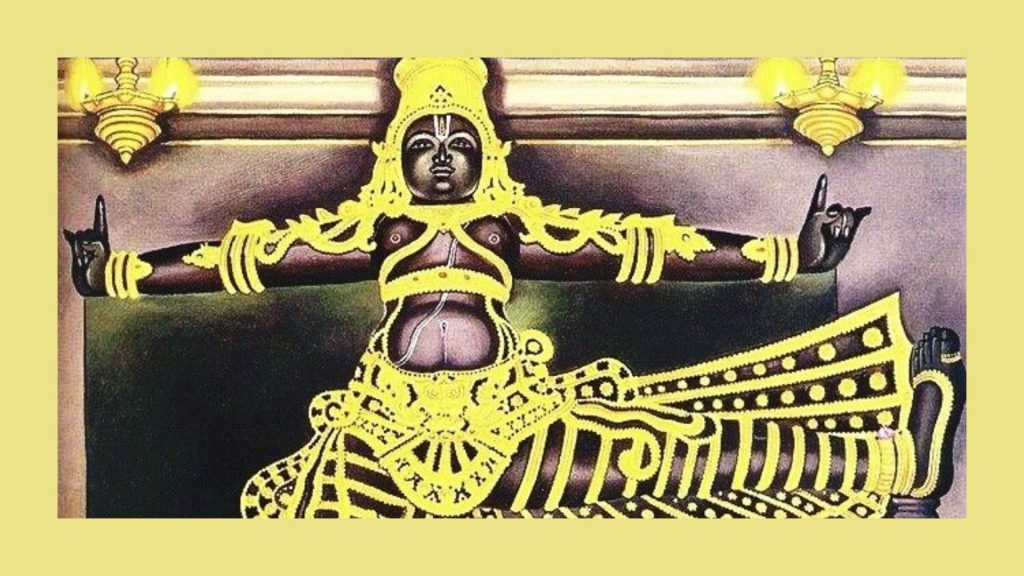 The presiding deity of this temple is lord Ulagalantha Perumal also called Trivikraman stands at height of 35 feet with his right leg at a right angle to the body and parallel to the ground, placed on the head of the demon king Mahabali. The two left-hand fingers of the Lord are seen stretched out, which indicates that he took two steps to measure the world. And one finger of his right hand refers to the questions that Lord posted to the demon king, where he cloud place his third step.
This was located in the village called Kanchipuram, Tamil Nadu state, the languages known are Tamil and English, photography is not allowed in this temple.
Ulagalantha Perumal Temple Kanchipuram Timings:
The opening and closing timings are very important to know to visit the temple in the day staring the doors will open at 6 am till 12 pm again opens at 4 pm and final closing at 8 pm in the night.
Ulagalantha Perumal Temple Kanchipuram Darshan Timings:
Ushathkalam Pooja at 7 am
Kalasanthi Pooja at 8 am
Uchikalam Pooja 12 pm
Sayarakshai pooja 6 am
Irandamkalam Pooja at 7 am
Ardha Jamam Pooja at 10 am
Nearby Temples Of Ulagalantha Perumal Temple Kanchipuram:
Ekambareswarar temple is 1 km away
Kumara Kottam Subramanya temple is at a walkable distance
Sri Varadarajan Perumal temple 4 km away
Kaliasanathar temple is 2 km away
Kanchi Kamakshi Amman is 1.5 km away
How to Reach Temple Ulagalantha Perumal Temple Kanchipuram:
The temple is 109 km is far from the Tirupati. District bus to Kanchi is available from Tirupati Central Bus Station
Temple is at a walkable distance from Kanchipuram Bus station
Temple is 1 km from Kanchipuram Railway station
Festivals in this Temple:
Vaikuntha Ekadasi
Karthiga Masam months
Annual Bramostavam
Accommodation:
The private rooms are available both in A/c and Non- A/c near to the temples. Whereas the temple is not providing any shelter to the visitors on the premises of the temple.
Ulagalantha Perumal Temple Kanchipuram Address:
Call:  8500085151, 9443597107
Ulagalantha perumal Temple Kanchipuram
Tamil Nadu, India.