Services Offered By TTD Temple
Services Offered By TTD Temple Handling huge number of employees and have a strong board of trustees, TTD has come up with various services for pilgrims. At the same time, Tirumala being the top most temples in the  world the number of devotees coming to this place of worship are increasing day by day.Check More Sevas And Pooja's Of TTD Venkateswara Temple
Services offered by TTD at Tirumala and Tirupati involve Food, Accommodation and mode of commuting for the devotees. As mentioned earlier under facilities such as Prasadam, head tonsuring etc., are taken care of by the well managed employee system.Check More Inforamtion About TTD Venkateswara Temple
History of TTD Venkateswara Temple
Ticketing service
Online & Queue Management
Ticket services to the devotees are available for pre booking of Darshans, which is made easy for all.
The individual needs to register in TTD website, which is a required task for Darshans/ Accommodation offered by TTD. A unique User Id and Password is provided.
Note : One seva is only offered for more than one person. And the accommodation is assigned for single registration in 60days form accommodation or seva Dates. Similarly, To take max. of two tokens(Tickets) can be booked for the same day and for the same seva, only one person is allowed for this.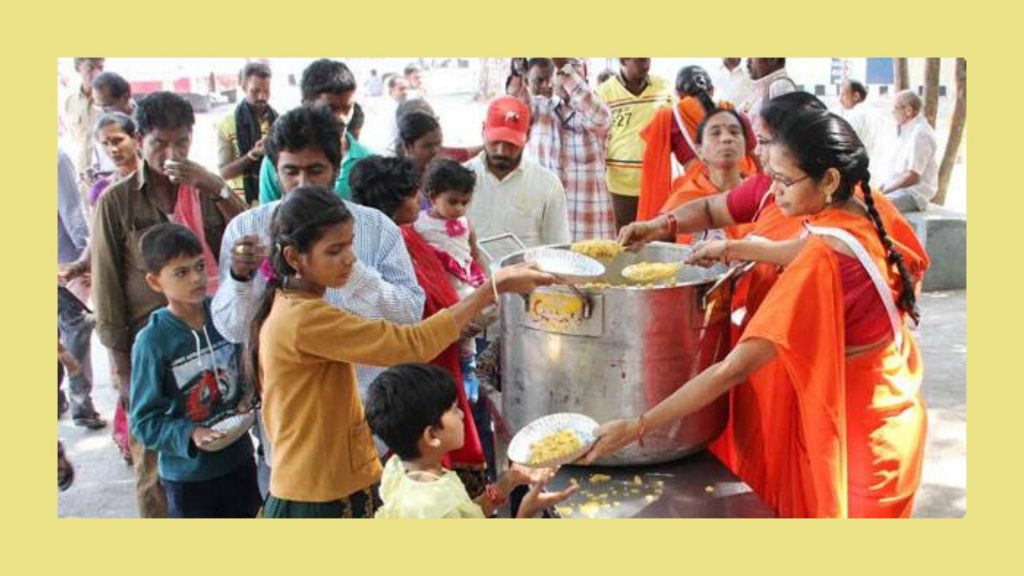 Website : ttdsevaonline.com is available for Srivari Seva of Arjitha, prior booking of 60 days for this.
For all the seva activities (Namely Suprabhatam, Kalyanostavam, Arjitha Brahmostavam, Dolotsavam, Vishesha Pooja, Nija Pada Darshanam, Vasanthosavam & Sahasra Deepalakarana Seva)tickets are prices as Rs.50/- darshan, Rs.200/- Rs.300/- for accommodation are to be booked 60 days prior through e-Dershan.
To reduce the crowd standing in queues in Tirumala, E-Darshan counter are now available across the country. Previously this was token system which slowly changed to Biometric system. So with this slot booking tickets, devotees are allowed to enter Vaikuntam Queue line at Comple-1. This facility is provided by TTD all states almost with their official setup or in TTD Kalyanamandapams.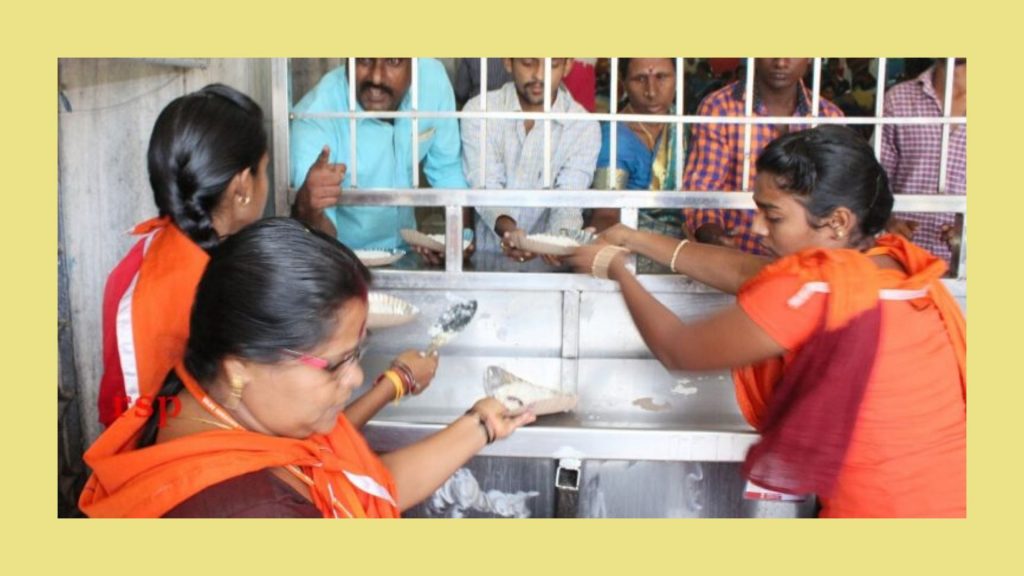 Offices of TTD authorization are also located in main cities & towns around the country.
On arrival booking over the single window counter are available for seva's like Suprabatam, Thomala Seva, Archna Seva, Kalyanam, UnjalaSeva, Astadala Paada Padmaradhana, Thiruppavada, Poorabhishekam, Melchat Vastram and additional the ones that are mentioned above in E-darshan category.
TTD has extended its services in form of Marriage halls, Junior collages, Degree collages and High Schools.
Temple Tradition/Practice
Services Offered By TTD Temple Every temple has its own tradition on various factors which shows the significance of the temple. Here are few factors that resembles the speciality of TTD .Click More Epic Story Of TTD Venkateswara Temple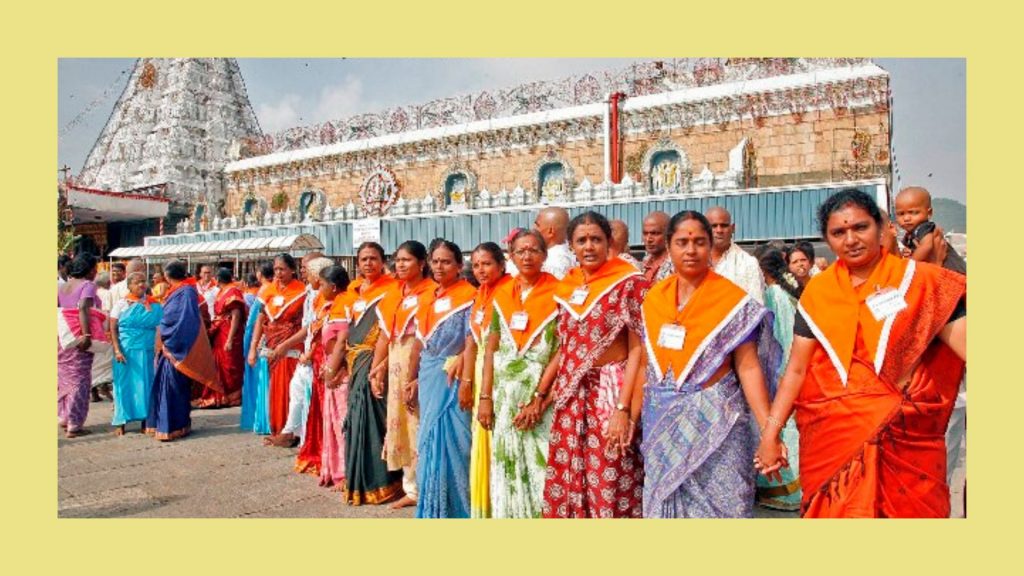 Thulabharam is one of the most important contribution made by Pilgrims, where a devotee is made to sit on one side of weighing pan and weighed with other materials like jaggery, Sugar, banana, Coins, Gold, etc., which is more weighted compared to the devotee. Normally this ritual is carry out with new born babies.
Pot of Donations or Hundi:
It is trusted that Lord Srinivas had to arrange some money for his wedding, and he took this from Kubera. So, Lord Srinivasa had to return this money, here devotees who come into the temple give their offerings in the Hundi in respect to the Lord where he can repay the money taken. It is said that Lord had borrowed  11.4million coins of gold from Kubera.
Services Offered By TTD Temple is another kind of offering given to the Lord. Here the hair of the devotee is tonsured, where they go bald. Later, the hair is sold to international buyers which brings in an income of 6 million Dollars into temples treasure.
There is an interesting story behind relating Neela Devi and Lord Balaji. we will be going through this in future study in detail.
Services Offered By TTD Temple Trupati Laddu is the most famous Laddu all over the world. There is a typical traditional method of preparing this, where TTD is entitled to sell or make them. Other Prasadams like, Badojanam (Yogurt Rice), Vada, Chakkera pongali(Sweet Pongal), Puliohora (Tamarind Rice), Appam, Jilebi, Muruku, Paayasam, Seera(Kesari), Dosa. First the prasadam is offered to the Lord and then given to the devotees.
Accommodation in TTD Venkateswara Temple Tirupati  TTD has special offering to the devotees coming in by providing FREE MEAL provided daily. Specially on Thursdays, Seva of Tirupavada is performed as the food items are kept to Lord Balaji as naivedyam.
Other Provisions Dealt by TTD
E-Darshan Counters ( mentioned above)
CDs of activities in temple
Video Cassettes of timely events
Sri Venkateswara Recording Projects
Dasa Sahitya
Music & Books
Alwar Divya Pradhandams
Community for Hindu Dharma Parirakshana Samithi

These are the services offered by the TTD Trustees and Board members to the devotees
 Establishments
TTD established a research centre named SVCLRC abbreviated as 'Sri Venkateswara Central Library and Research Centre' in the year 1993. Holding nearly 40,000 volumes of books specifically relating to religion & Philosophy.
Research sector works on study and publishing materials on Hindu religion, papers produced on authentic dharma and many more. Also hands ancient culture and tradition in religious languages such as English and Hindi.
Establishment of 'Dharma Prachara Parishad' to promote Hindu restoration relating to Hindu sculptures.
With the involvement and support of TCS (Tata Consulting Service) multifaceted algorithms design and planning, of queuing and rising technology has helps the TTD management to maintain the incredibly increasing crowd. Which was done with the help of other MNC's.
Also Read How To Reach Tirupati Balaji Temple