Best places to visit near Sri Krishna Temple Udupi & Distance From the Sri Krishna Temple Udupi
Malpe Beach, Karnataka – Distance From Sri Krishna Temple Udupi to Malpe Beach is 6.6 Km
The Malpe beach has four rocky islands as Daria Bahadurgad Fort, Daria-Gadara-Kalluthe, Mary's Island. The Malpe beach has white sand, and it also consists of hidden treasures of Karnataka. There are various water sports and adventurous activities conducted in the beach as a jet ski or water scooter rides, parasailing, banana rides, speed boat rides, bumpy rides, speed boat cruise, surfing, trekking, white river rafting, rock climbing, kayaking, rappelling.
Distance between Udupi Krishna Temple and Malpe Beach is 6.6 Km.  It takes 17 minutes Journey From Udupi Krishna Temple to Malpe Beach and 9.50 km from Udupi Railway station. 20 minutes Journey From Udupi Railway station to Malpe Beach.
St. Mary's Island – Distance From Sri Krishna Temple Udupi to St. Mary's Island is 11.5 Km
St. mary's island called Coconut Island and Thonsepar. This is an island that formed due to a sub-volcanic activity that happened 88 million years ago. There are four islands, and the northernmost island is in the form of the hexagon, which covers 500 meters height with 100 meters wide with coconut trees all around. To reach St.Mary's island, the only source is a boat. This island is 58km away from to the north of Mangalore. Their many major cities that connected to Malpe are Mumbai, Kochi, Kazhakoottam, Kanjiramattom, Thrippunithura, Muthalamada.
The time required to reach the St. Mary's Islands From Udupi Sri Krishna Temple is 49 Minutes, which is at a distance of 11.5 km.  From Udupi railway station it has 14.4 Kms and it takes 54 minutes Journey to Reach St. mary's island.
Kaup Beach Udupi -Distance From Sri Krishna Temple Udupi to Kaup Beach Udupi is 15.2 Km
The Kaup beach has a lighthouse, three Mariamman temples, and a fort. The Kaup lighthouse constructed in 1901, which guides the sailors, and the lighthouse opened between 5:30 AM-6:30 AM.
A ride of 24 mins via NH66 is required to reach the Kaup beach from Sri Krishna temple Udupi, and the beach is 15.2 km away from Sri Krishna Temple. Kaup beach is 16 km away from the Udupi railway station close to NH17.
Anegudde Sri Vinayaka Temple – Distance From Sri Krishna Temple Udupi to Anegudde Sri Vinayaka Temple is 29.9 Km
Annegudde is a village that is in the Udupi district, India. This village called Kumbashi, which lies on NH66. Annegudde consists of 2 guest houses named as Amoda and Pramoda for pilgrims. The festival that celebrated is Rathotsava and Ganesh Chaturthi, and on full moon day, special poojas held in the temple. The name Anegudde derived from Aane means elephant Andgudde means hillock so Annegudde means elephant-headed god Sri Vinayaka.
To reach Anegudde temple from Sri Krishna temple Udupi it takes 35 Minutes Journey via NH66 that is 29.9 km away and From Udupi Railway station It takes 38 Minutes to Reach Anegudde Sri Vinayaka Temple.
Vadabhandeshwara Balaram Temple Malpe – Distance From Sri Krishna Temple Udupi to Vadabhandeshwara Balaram Temple Malpe is 13.2 Km
Vadabandeshwara is the brother of Srikrishna. The lord Balaram si performed rituals in the name of Vadabhandeshwara. This temple located near to the Malpe beach. This temple built by Madhava Charya. In the time of Mahalaya Amavasya, thousands of pilgrims will visit the temple and take a bath in the sea.
It takes 22 minutes to reach the Vadabhandeshwara Temple from Udupi Srikrishna temple via Udupi maple road that is 8.2 km from Srikrishna temple. It takes 25 minutes to reach via Kalsanka Ambagilu road and Udupi, it takes a drive for 25 mins via Kalsanka Ambagilu road that is 13.2 km to reach.
Brahmavar – Distance From Sri Krishna Temple Udupi to Brahmavar is 12.2 Km
Brahmavara is on the national highway NH 66. Villages surround Brahmavara as handadi, baikady, matpadi, kunjal, kumragod, salikeri, haradi, matapadi. The bhamhavar consists of barkur to north of Brahmavar, Udupi to the south, Mangalore to the south, Mangalore to north.
Bramhavar takes 17 minutes journey via kalsanka ambagilu road and NH66, which is of a distance 12.2 km from Udupi Sri Krishna Temple.
Barkur – There are 365 temples in Barkur and shells of few can be visible till day – Distance From Sri Krishna Temple Udupi to Barkur is 16.6 Km
The name Barkur derived from three villages named as hosala, hanehalli, kachoor, brahmavara taluk of Karnataka state, India. Barkur called a temple town located on the bank of river Seetha. Barkur located 16 km from Udupi, 3 km from Brahmavara, and the Seetha river flows through barkur and merges in the Arabian Sea. The barkur is constructed in Dravidian style as the temples don't consist of temple roofs that means there are no gopurams for the temples. Barkur was the capital of the alupa kingdom, and it's called as Barakanyapura and alter called as Barkkanur. The languages that used are Barkur are Tulu, Konkani, byari.
To reach Barkur from Sri Krishna temple Udupi, it takes 24 Minutes Journey, which is a distance of 16.6 km.
Sri Venkataramana Temple Mulki, Near Mangalore – Distance From Sri Krishna Temple Udupi to Sri Venkataramana Temple Mulki is 31.7 Km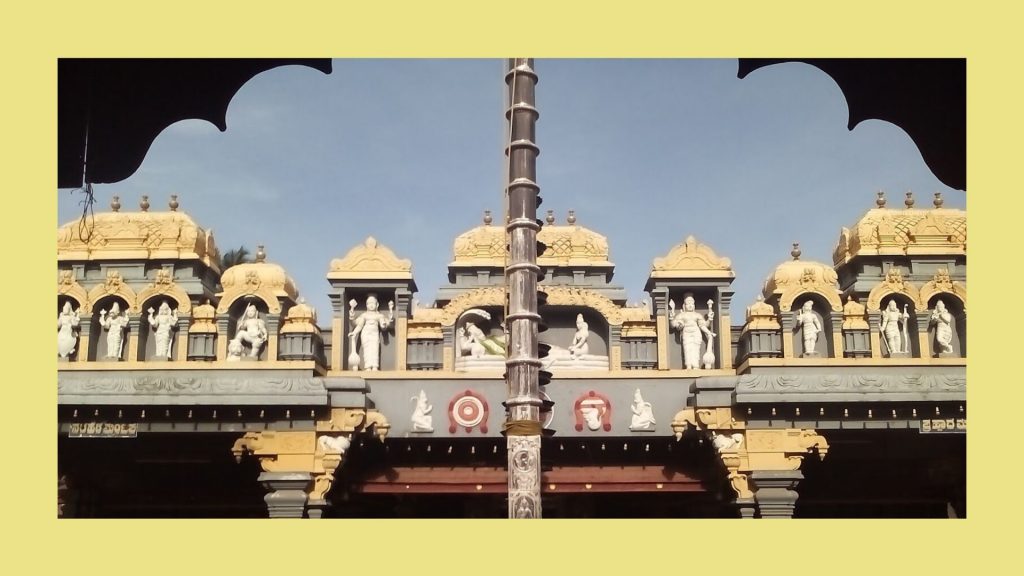 It is located 29km from Udupi
Bappanadu Durga Parameshwari Temple – Mulki, Near Mangalore – Distance From Sri Krishna Temple Udupi to Bappanadu Durga Parameshwari Temple Mulki is 30.02 Km
It is located at 28km from Mangalore and 30km from Udupi.
There are many different Prominent Interesting Epic Of The Lord Shri Krishna Temple