About SaiBaba Temple Shirdi
About SaiBaba Temple Shirdi the temple was built beautifully on the Samadhi of Shri Sai Baba.How To Reach a Beautiful Pilgrimage Shri Shiridi Sai baba Temple  It is located nearly 296 kilometer from Mumbai city in India.
Shiridi was established in 1922 and it is very famous temple in India. Sai baba arrived in the Shiridi at the age of 16 and he stayed their till his death. He took shelter in Khandoba temple Epic of Great Shree Shiridi Sai Baba Temple
Sai baba lived in Shiridi from 1838 to 1918 whose name, date of birth and place are unknown. History Of Great Temple Shiridi Sai Baba Sai baba in Shiridi was followed with great respect by both Hindu and Muslim followers
Baba attitudeis fixedwith 'Sharaddha' means faith and 'Saburi' means kindness. So, According to Sai Sharaddha and Saburi are the two attributes to reach the state of godliness.
About SaiBaba Temple Shirdi was small village with 80 thatched houses with mud walls but today Shiridi is big town with grand modern buildings and shop Click More Updates  Accommodation Facilities Sai Baba Temple in Shiridi.
Thursday is the very special day on this day many devotees will appear from all over the India.
The Mandir was now is extended twice the size more than original building, it have been extended from the back with stone arches. As the increase in the flow of devotees temple organization try to made many alterations. A hall was added to the back side of the Mandir in 1998 and a big hall is built connecting to the Dwarakamayi.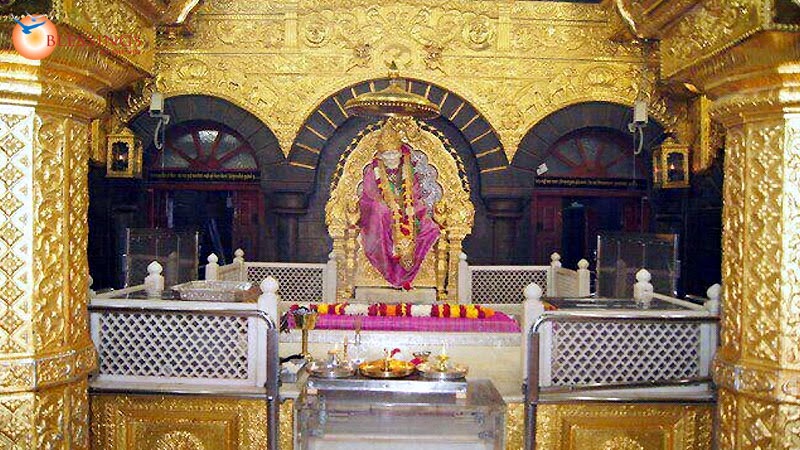 The statue of the Baba is appreciated as an extra ordinary and beautiful image. It looks Baba sits relax, normal and royal looking beningly on the lacks of devotees who collect to him for relief. The quality of eyes is naturally most difficult feature to expose in stone statue. The statue seems to be looking at us and answering!!!!
The statue of the Baba which was famous was established at 1954, 36 years after his Samadhi. The story behind this statue is follows as once a white marble from the Italy was come to Shiridi. But no one knows anything about it. The stone was found in shipyard from unknown applicant. The purchaser presented it to Shiridi temple authorities.
Authorities were impressed by the marble quality and decided to use for the Baba idol and gave the assignment to a sculpture from Bombay called Balaji Vasnt Tamil. He had only a black and white photo of the baba to design the idol. He struggled a lot to get the similarity then, one day Baba appeared in his dream and remarked all the difficulties and showed his faces from different angles he inspires Tamil to remember his face well. By Baba's inspiration he worked easily and the result was topped all prospects.
Baba Statue was installed on Vijayadasami day on 7th October 1954 in the afforded all outstanding honors.
About SaiBaba Temple Shirdi day starts with Baba Abhishekam with hot water and they offer breakfast, lunch and dinner accordingly. Darshanam Timings of Great Shirdi Sai Baba Temple Baba clothes were changed 4 times in a day before each Aarthi and he is decorated with gold or silver crown. In the night baba Statue was covered with mosquito net and plain white cloth spread on tomb. Every day morning at 4 'o' clock Baba was waked up by removing mosquito net and a glass of water Wii be kept side to him . This ritual is called as Bhupali.
Display of Baba'sThings at Shirdi.
All the Baba belongings are kept in museum in Shirdi like 3 pairs of sandals (though baba was bare foot always). His clothes in a glass, cooking pots, sliver palanquin, silver chillims and ornaments of Shyam Sunder (horse).
Temples inside the Shiridi:
Samadhi Mandir about the beautiful Shiridi sai baba temple:
Dwarakamayi about the beautiful Shiridi sai baba temple:
Chawadi about the beautiful Shiridi sai baba temple:
Gurusthan about the beautiful Shiridi sai baba temple:
Jain Kanch Mandir about the beautiful Shiridi sai baba temple:
Khandoba Mandir about the beautiful Shiridi sai baba temple:
Shani, Ganesh, Shiv, Maruti Mandir about the beautiful Shiridi sai baba temple:
As we move around the Shiridi the feelings notifies life, devotion and journey here. It gives to the thrilling and magic of what Shiridi call. –   Jai Sai Ram.
There are many different Prominent Visiting places Near Sai Baba Temple Shirdi